THIS SUNDAY VAUCLUSE HARBOURSIDE MANSION
HOME CONTENTS AUCTION
Antiques, Fine Art, Jewellery, Watches, Collectables, French Provincial, Chinese Antiques, Persian Rugs, Home Interiors & More.


JOIN IN THE EXCITEMEMT OF A LIVE AUCTION OR BID NOW!
SUNDAY 5 DECEMBER AT 12 NOON


DUE TO DOWNSIZING THIS FIVE BEDROOM LUXURY MANSION HOUSE IN SOUGHT-AFTER VAUCLUSE IS SELLING ALL ITS CONTENTS. LOCATED ON TOWNS ROAD IN VAUCLUSE THIS IS A ONCE IN A LIFE TIMES CHANCE TO OWN UNIQUE CHARACTER FILLED PIECES.
Over 400 lots of Amazing Unique Pieces. Perfect Just in Time for Christmas!

EASY DELIVERIES AVAILABLE AUSTRALIA WIDE!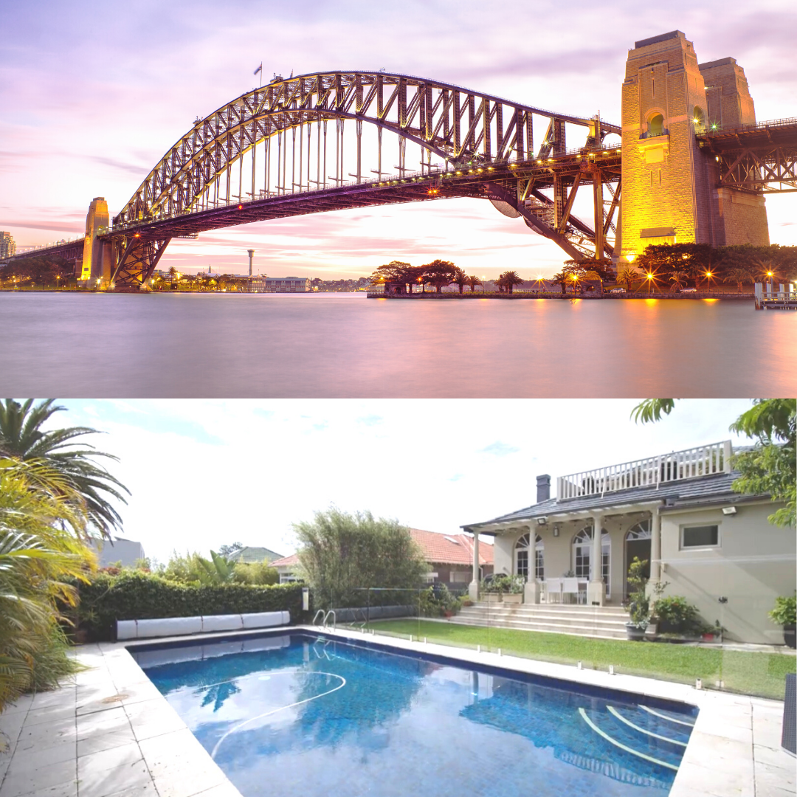 LIVE ONLINE AUCTION

JOIN IN THE EXCITEMEMT OF A LIVE AUCTION OR BID NOW!
SUNDAY 5 DECEMBER AT 12.OO NOON
THE LIVE AUCTION STARTS AT 12.00PM UNTIL 8PM. EACH LOT WILL BE AUCTIONED INDIVIDUALLY.

WATCH THE AUCTIONEER LIVE & JOIN IN WITH THE BIDDING IN REAL-TIME!

EASY DELIVERIES AVAILABLE AUSTRALIA WIDE!


TELEPHONE BIDS AVAILABLE & PLACED BEFORE 11PM ON SUNDAY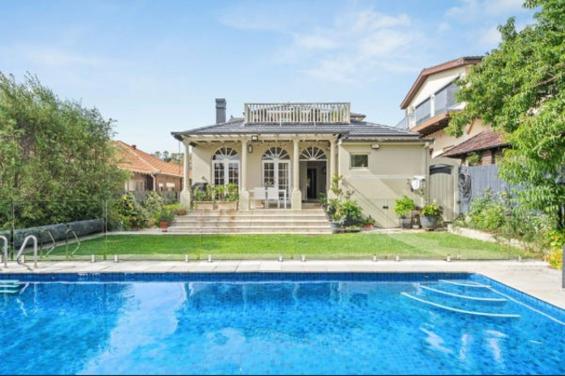 ANTIQUES
17th Century Oak Side Board, Colonial Cedar Oval Centre Table, Regency Style Mahogany And Leather Games, Victorian Burr-Walnut Sewing Cabinet, Magnificent Louis XV Style French Empire Gilt Heavily Carved Console Table, Magnificent Two Piece Edwardian Walnut And Satinwood Display Cabinet On Cabriole Legs, Fine Rare French 19th Century Boulle Cabinet, Pair of French Bronze Cherub Floor Standing Electrified Candelabras, 19th Century Beautifully Carved Gothic Revival Two Piece Bookcase, Fine Georgian Long Cased Clock With Arched Face, Fine Cedar Australian Colonial Two Piece Bookcase, French Provincial Bergene Arm Chair, Victorian Bur Walnut Davenport, 18th/19th Century Ash And Elm Windsor High Backed Arm Chair, Leather Chesterfield Sofas and Tub Arm Chair etc
JEWELLERY
170 lots of Jewellery , Diamond Rings Rolex & Cartier Watches, White & Yellow Gold Diamond Tennis Bracelets, Argyle Pink Diamonds Rings Earrings and Necklaces, Diamond Earrings, Sapphire, Ruby, Tanzanite Rings, Aquamarine and Diamond Rings, South Sea Pearls, Emerald And Diamond Pendant Necklace. Sapphire and Diamond Ring, Aquamarine Earrings Colombian Emeralds, Platinum Diamond Rings, Loose Diamond, Men's Diamond Ring, Diamond Necklaces, Emerald Bracelet, Ruby and Diamond Rings, Emerald And Tanzanite Earrings. All Jewellery & Watches comes with a Certificate of Authenticity.
COLLECTABLES
Royal Worcester, Moorcroft, Gallie Style French Art Glass Vase, Victorian Oak And Silver Plated Three Crystal Bottle Tantalus, Sterling Silver Jewellery Box, 19th Century Silver And Crystal Whisky Flask, 1920c Fairfax And Roberts of Sydney Travel Clock, Bronze Sculptures and Statues, Group of African Artefacts, Silver Plate ware, Orrefors, Antique Weapons, Chinese Blue & White Vases, Brush Pots Champagne Buckets, Wine Cooler and More.
FINE ART
Original David Bromley Acrylic on Canvas, John Olsen, Original Mark Hanham, Original Aboriginal Acrylic on Canvas, Vincent Van Gogh, Original Norman Lindsay Drawing, Pro Hart, Dean Vella, Salvador Dali, Brett Whiteley, Jasper Knight, Charles Blackman, Gillie & Mark, Pablo Picasso, Marc Chagall, Colin Parker, Kym Hart, Constantine Popov, Robert Dickerson, Edouard Manet, Pierre Auguste, Margaret Preston, Theo Proctor, Sideny Nolan and more…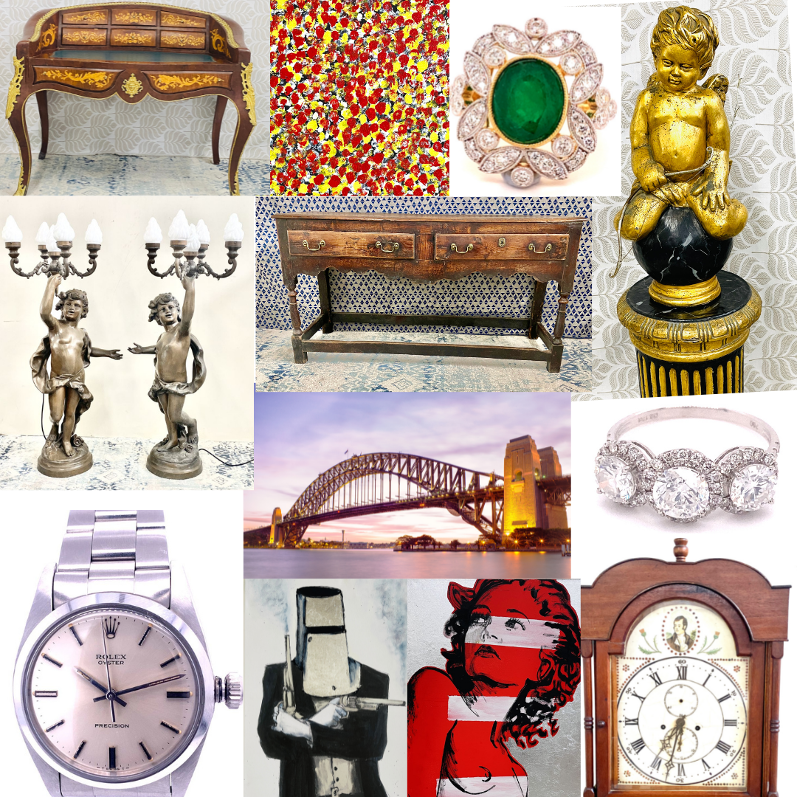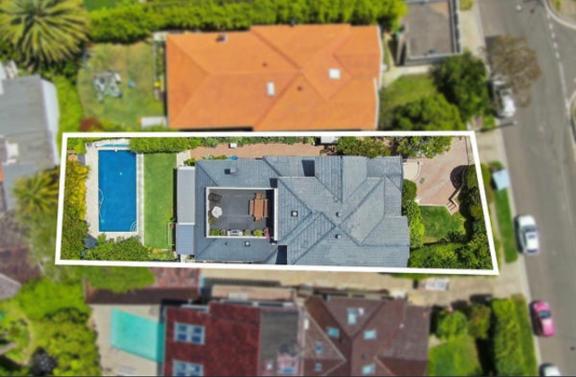 COLLECTION INFORMATION

Jewellery Items Free Express Delivery with Insurance Aus Wide.


Other Items - Collect in person, See days & times below
Interstate - See list of removalist and couriers here


Date: Monday 6th & Tuesday 7th December
Time: 10am - 4pm

Collection Address:

Pottle Auctions
No 11 33-33 College Street
Gladesville NSW 2111
College Street is closed. Enter via Victoria Road onto Frank Street. Turn Second left through the boom gate. It boom gate will open automatically.
Tel Number 0451 564 809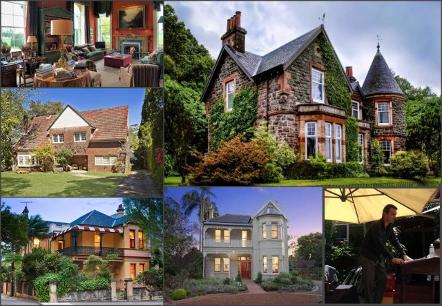 What our customers think....
"What an experience ! Thank you so much to you and your team for your dedication, I am delighted with the out come of the Home Contents Auction and would highly recommend Pottle Auctions".


G H Johnson, Pymble.
"After over forty years we had to sell our family home and contents in Pymble and downsize. Julian has impressive industry knowledge, full of energy excellent result."


Mr & Mrs Evan, Wahroogna
"We just wanted to say how impressed we were with your team, your hard work & to Julian in particular, your voice! How you managed to stay up there on your pedestal and keep the banter going for the whole day was superhuman.........Thank You"
The Grunberg And Da Silva Collection, Randwick
More testimonies.......